Manufacture
The production and technical base at

Karat

allows the following kinds of work: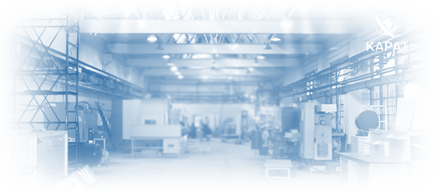 mechanical processing,
electrical assembly work;
assembly and testing of optical units, units and systems;
manufacturing electronic boards, units and devices;
assembly of mechanical assemblies, units, instruments, and systems;
testing of ready product.
The mechanical processing department is equipped with state-of-the-art processing centers with numeric program control. The department enables the manufacture of aluminum, stainless steel, titan, organic glass, fluorine plastic and other materials with additional complexity within short time frames. Besides the manufacturing needs of
Karat
, the department accepts contracts for all types of mechanic processing. Apart from satisfying the customers' needs, the specialists of the mechanic processing department can create control programs for machine-tools with numeric program control.
The electric assembly department is equipped with lineup tables, soldering stations and air cleaners. The department manufactures electronic boards, assemblies and devices. We can also execute three-dimensional wiring and SMD elements assembly.
Product testing. On the basis of the reliability requirements and failure tolerance, all the devices manufactured at Karat are subject to tests for critical parameters. Our facility can perform humidity, thermal, dust and vibration immunity tests, as well as simulate conditions of the deviceís actual operation.
All the work with step-wise checking is carried out by highly competent specialists, with the use of high-quality components, modern tools and equipment. The special-purpose products are accepted by the
Military Quality Inspection Department of the Russian Navy
.